Sugar is one of the best-tasting food elements that most people enjoy. Just imagine the sweetness that bursts in your tastebuds. While you enjoy the sweet taste of sugar, you are also at risk of having tooth decay. Remember that so much of a good thing can be damaging but don't get me wrong, sugar is not all that bad.
Appreciating Sugar
Before we talk about the effects of sugar on your teeth, let's try to understand sugar.
Aside from its wonderful taste, sugar offers some benefits to the body. In essence, sugar is a type of carbohydrate and as we all know, carbohydrates fuel up your brain and body. It provides the energy that you need in a day's work.
Then again, it helps to cut down on too much sugar for better oral health.
The Effects of Too much Sugar on Your Teeth
Generally, sugar can cause tooth decay, but it is not the lone culprit in your mouth. You should understand that your mouth has both beneficial and harmful bacteria which feed on sugar. When this happens, acid is produced which adversely affects your teeth.
Phase 1: Lowers pH Level
The initial effect of too much sugar on your teeth is lowering the pH level. The pH scale measures the degree of acidity in your mouth with 7 being the neutral level. More sugar consumption means more acidity and lower pH level.
When it drops to 5.5 or lower, dental plaque is formed on the teeth. Plaque is the sticky and colourless film that builds on the tooth's surface. If this is ignored, tooth decay may happen.
Phase 2: Tooth Decay
As the pH level decreases, acid attacks increase the risks for tooth decay. The acid also removes the minerals from the teeth causing the thinning of their enamel. The increasing acidity level makes the teeth more vulnerable to oral problems and bacterial infections.
Phase 3: Gum Disease
When oral bacterial infection continues to thrive as you consume more sugar, it can lead to gum diseases. This may include exposed tooth roots and gingivitis. Gum diseases are characterized by the reddening, swelling and sometimes bleeding of the gums during teeth brushing.
Phase 4: Tooth Loss
Significant damage caused by tooth decay and periodontal disease may require the extraction of the tooth. Removing the tooth is the last option that your dental provider may recommend.
The effects of too much sugar are "teeth-breaking" but this can be prevented if you observe proper oral care.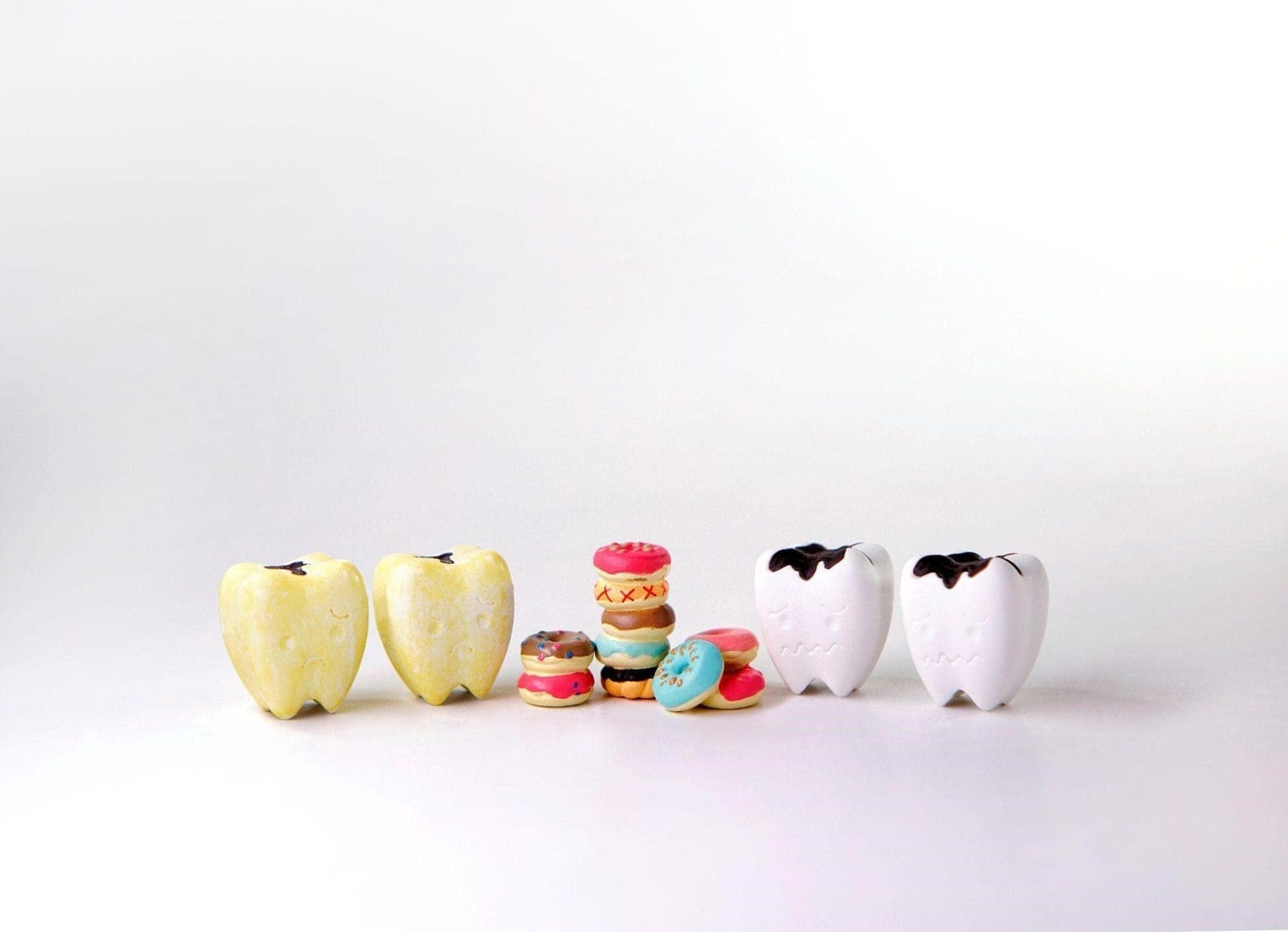 What can you do to lessen your sugar intake?
If you are a sweet tooth like me, you can follow these simple tricks to limit your sugar intake:
Drink water or rinse off the sugar from your mouth;
Check the nutrition labels and choose food and drinks with low-sugar content;
Limit the frequency of sugary snacks like an afternoon tea and cake with friends;
Replace a sweet pastry with fresh fruit;
Avoid eating and drinking sweets before going to bed;
Choose water over soda or coffee;
Consume sweets together with your meals;
Avoid foods claiming they are healthy like flavoured oatmeal, some salad dressings and yoghurt as these contain more sugar than you think.
Keeping Your Pearly Whites Healthy
Here are some tips that can keep your teeth decay-free:
●      Balanced Diet
Eating fresh fruits and vegetables, whole grains, dairy products and other food groups can help regulate the pH level in your mouth. When you eat fresh fruits, it increases the flow of saliva in your mouth which hastens the development of cavities on your teeth.
Other whole grains can be a good source of carbohydrates instead of depending on sugar to fuel up your energy. Eating calcium-rich vegetables and dairy products can help strengthen and boost the health of your pearly whites.
●      Lower Your Sugar Consumption
Surely, everyone loves sweets, but it doesn't hurt to cut down on your sugar intake. It helps to indulge in sweets occasionally. Make sure that you drink or rinse your mouth with water after having a sugary treat.
When drinking something sweet or acidic, try using a straw. This helps to minimize the interaction of sugar and acid with your teeth, hence, lesser risk of cavity or plaque formation.
●      Observe Proper Oral Hygiene
First on the list for proper hygiene is brushing your teeth. It helps to do so every meal but if not, make sure to do this at least twice daily. You can further promote good dental health by using toothpaste with fluoride. This provides a protective shield to your pearly whites.
Another thing that you can do for your teeth is to floss them properly. You can do this after a meal and rinse your mouth with clean water after flossing.
You can also increase the saliva in your mouth by chewing sugar-free gum. It also reduces plaque build-up and increases the mineral and pH level of your teeth.
●      Regularly Visit Your Dentist
Lastly, visit your dentist every 6 months. It helps to have oral prophylaxis or teeth cleaning scheduled twice a year. When you feel even the slightest pain in your gums, visit your trusted dental clinic immediately.
Remember that a healthy lifestyle is always the way to battle tooth decay and other oral diseases.
Learn more about proper oral care, contact Smile Ville in South Morang today!